Borussia Dortmund Betting Tips
Borussia Dortmund is one of Germany's most famous football clubs having enjoyed huge success in the
German Bundesliga
and even the
UEFA Champions League
. Well-known for their passionate fans, they are followed from every corner of the globe and there is always bound to be some degree of betting interest in BVB.
We bring you all the key information you need to know before placing a bet on the team from North Rhine-Westphalia and/or its players.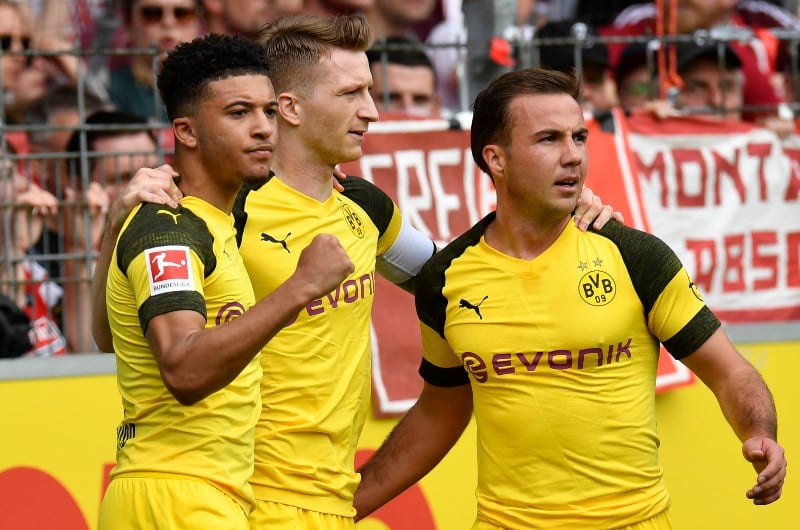 Borussia Dortmund Betting Odds
The size of the Bundesliga and Borussia Dortmund means that there will be odds for BVB fixtures from bookmakers all across the globe. The competition makes it difficult to figure out which bookmaker to bet with.
Our
bookmaker reviews
should help you pick out the best bookmakers to help you build your bankroll when betting on Borussia Dortmund.
Borussia Dortmund Fixtures
Borussia Dortmund's fixture list is available on the official
BVB website
and bettors are advised to always keep a close eye on this. Odds are often released long in advance of fixtures and value can drop due to a surge in interest if you don't pick the bets you want early on.
Dortmund play in various different competitions, so fixtures might be rescheduled due to clashes at times. This is just another reason why it is helpful to check the fixture list.
Borussia Dortmund Results
Results for Borussia Dortmund fixtures are also available along with their upcoming matches on the official club website. Before betting on Dortmund, be sure that you know what their recent results have been.
Beyond scrolling through scorelines on the official Borussia Dortmund website, it helps to be aware of trends which can influence betting. For example, are Dortmund playing as well away from home as they do at Signal Iduna Park?
What can help the process of finding these trends is using stats websites. In addition, read our regular Borussia Dortmund betting tips as we aim to make your life easier.
Borussia Dortmund Live Streaming
Live streaming could be possible for Borussia Dortmund matches and this is a fantastic way to follow BVB while on the go. This is possible off your laptop device, desktop computer, smartphone, tablet or iPad.
Borussia Dortmund Replays
If you can't watch Borussia Dortmund play live for whichever reason, it is best to catch up with the game(s) you have missed through watching the highlights or full replays. This will ensure that you do not miss out on any key moments which could be worth taking note of as a bettor.
Borussia Dortmund has its own
YouTube channel
, which means you might possibly be able to find highlights there.
Borussia Dortmund News
Apart from the club's official YouTube channel, there are other Borussia Dortmund social media pages which you should follow in order to get the latest communication from the club. They include: