Live Dream Catcher is a live dealer game of chance played on a vertical prize wheel that is filled with numbered segments. Read the comprehensive review and check our list of casino sites to play Live Dream Catcher
Dream Catcher Live

How to play

Dream Catcher Wheel

Multiplier Segments

Dream Catcher Live Bonuses

Tips

Strategy

Live Dream Catcher FAQ
Best Live Dream Catcher Sites - South Africa
Dream Catcher Live
Who doesn't love a game that involves spinning the wheel of potential fortune? The excitement builds as the wheel goes round - and the anticipation becomes too much to handle as it slows down towards your chosen number! Get ready to feel all those emotions with Dream Catcher! For the latest tips, strategies and bonuses, please read our full guide below.
How to play
Live Dream Catcher is a live dealer game of chance played on a vertical prize wheel that is filled with numbered segments. The game is filmed from a colourful studio and is presented by a dealer.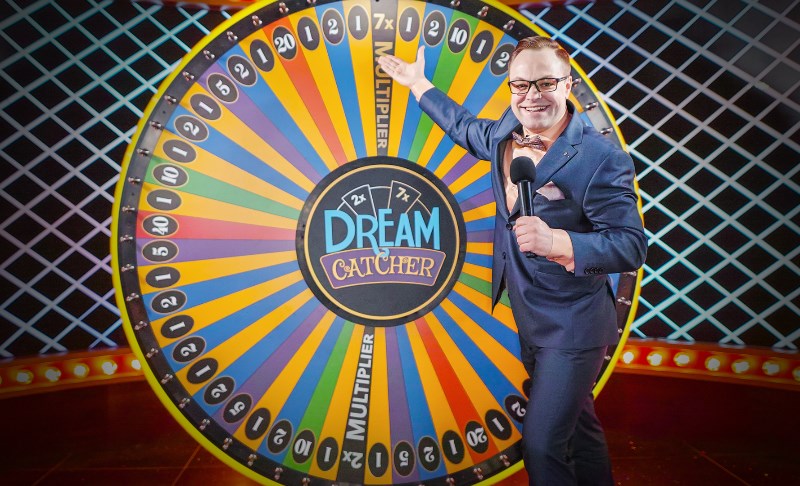 Developed by Evolution Gaming, this gameshow packs plenty of thrills and entertainment.
Dream Catcher Wheel
To play a game, you will need to place a wager where you think the wheel will eventually stop. The numbers available to choose from are 1, 2, 5, 10, 20, and 40.
If your chosen number comes up, you win your stake back in the form of odds - 1/1, 2/1, 5/1, 10/1, 20/1, and 40/1.Each game round starts with the dealer spinning the wheel in a clockwise direction. Wherever the wheel rests is the winning result for that game round.
Multiplier Segments
There are also multipliers available on the wheel - 2x or 7x bonuses. These multipliers give players the chance to win huge sums of money. If the wheel lands on a multiplier, then the wheel will be spun again. Any subsequent prizes will be multiplied by the value of the multiplier.Multipliers also stack for even more significant prize potential.
For example, a 7x multiplier followed by a 2x multiplier will mean that all prizes will be multiplied by 14x. These multipliers can stack as long as the wheel keeps landing on multiplier segments.
Dream Catcher Live Bonuses
Want to give the prize wheel a spin? Set yourself up with a bonus from a premier South African sportsbook. Top bookmakers are lining up with casino bonuses that you can use to have a spin on this game. Just remember to check the terms and conditions to make sure you can wager on this game with a bonus.
Bet.co.za
G-bets
Hollywoodbets SA
World Sports Betting
Gg Gaming
Tips
Here's how to improve your returns in Evolution's Dream Catcher:
Always try to play the max bet in anticipation of a potential multiplier
You can play Dream Catcher as if you were playing a game of roulette
Spread betting strategies are effective in this gameshow
The red segment offers the best winning odds at 40/1 - but there's only one segment with a 1.8% chance of appearing
You can use a strategy like the Martingale if you bet exclusively on 1 and 2
Strategy
There are two ways you can approach a game of Dream Catcher. What you choose will depend on your attitude towards risk.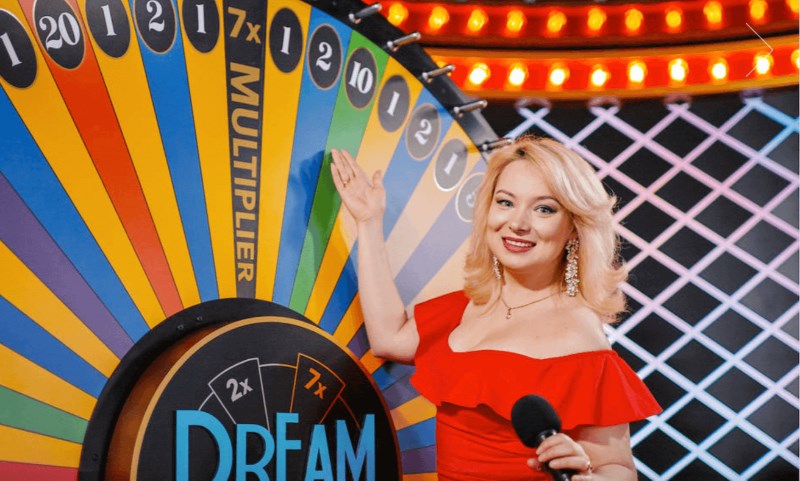 Low-Risk Strategy: Betting on 1 and 2

This strategy focuses on wheel coverage and taking advantage of the plentiful 1 and 2 segments.
Betting on both these options will net you 38 out of 52 possible segments - more than half the wheel!
Using this strategy, you will win often, but you won't make any significant returns until a multiplier lands.
Pros: Regular wins - massive coverage to capitalise on multipliers
Cons: Winnings will be small - even if you land a multiplier
High-Risk Strategy: Betting on 20 and 40
By betting on 20 and 40, you only cover 5.5% of the wheel - which seems like a suicidal strategy. However, this is the kind of patient tactic that has the potential to pay off. With this strategy, we want to land those multipliers to really amp up the payouts. Even if you don't land a multiplier pay, these positions pay top prizes by default.
Pros: Biggest prize potential with amazing prizes for multipliers
Cons: Massive wait times for a payout
Live Dream Catcher FAQ
What is Live Dream Catcher?

Dream Catcher is a gameshow style live dealer game from Evolution Gaming. Played on a vertical prize wheel, punters try to guess where a wheel spin will eventually land. The wheel has 52 segments ranging from 1 (which pays 1:1) up to 40 (which pays 40:1).

Is Live Dream Catcher fair and legit?

Yes. The wheel does all the work, so it is up to chance. Games are regularly audited and tested for randomness by independent testing houses.
Where can I play Dream Catcher online?

Top South African sportsbooks will offer this game with a chance to claim bonus money.

What is the best Dream Catcher strategy?
Focus on multiplier payouts using a low-risk approach and playing high-risk wagers and waiting the long game.