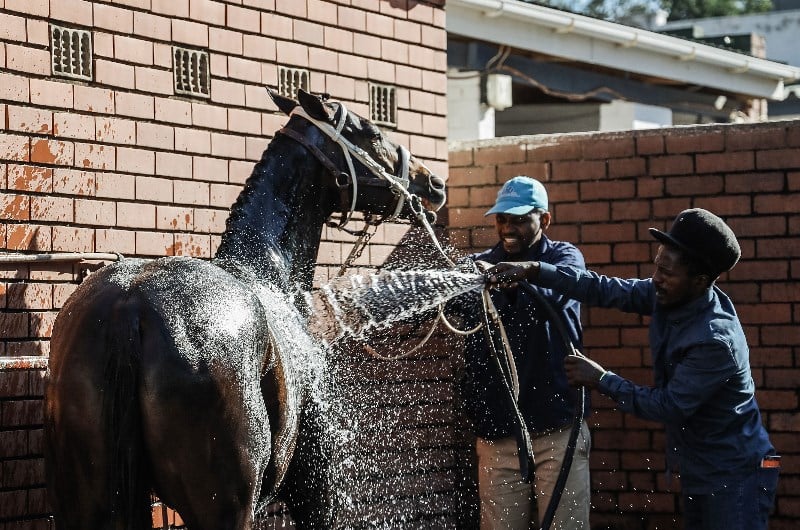 Champions Challenge Betting Tips, Best Bookmakers & Free Bets
The Champions Challenge is the headline race on a huge day of racing. Akin to the Breeders' Cup in the US, Champions Day at Turffontein is a showcase of the best thoroughbred talent in South Africa.
With two Grade 1 and five Grade 2 races on the card, it's a massive day for bettors and racing fans.
Champions Challenge history
This race evolved down the years from what was once the Summer Handicap, which was reintroduced in its traditional format by Phumelela in 1999.
Phumelela retained the format of the race and made it the headline event on the inaugural Champions Day in 1999, when it was run as the Champion Stakes at weight-for-age over 2000m.
It was renamed for artist John Skeaping in 2004 and 2005 before being renamed the President's Champions Challenge in 2006.
It was again renamed from the President's Champions Challenge to the Premier's Champions Challenge in 2016.
Down the years it has been won by top horses like National Emblem (1996), Record Edge (1997), Fort Defiance (1999) and Drum Star (2000), as well as Ilha Da Vitoria (2006) and Durban July winner Heavy Metal (2013).
As a 2000m weight-for-age race with limited and once-off penalties for Grade 1 and Grade 2 wins, it is the premier test for South Africa's top middle-distance runners with total prize money of R4 million.
Champions Challenge Betting Tips
We will have Champions Challenge betting tips available when the field is released.
Bookmakers always offer a wide-open market due to the popularity of the Turffontein race.
Champions Challenge Free Bets
Bookmakers often have free bets on offer for the Champions Challenge, which is a popular thoroughbred race and raceday at Turffontein in South Africa.
Check out our recommened bookmakers for the latest offers.
Live Streaming
Bettors can live stream the Champions Challenge at Bet365. They show most big South African races and all you need is an account and a bet on the race.
Many other horse racing authorities will stream Champions Challenge due to its big following.
Turffontein Track Info
Turf. 2700m oval track. Races up to 1160m straight course; beyond 1160m clockwise round turn with 800m run-in.
Track rises 12m from 1600m to 800m marks, making it most testing circuit in SA.
Low-number draws favoured over 1400m and to a lesser extent over 1600m.
Inside track:
Turf. 2500m near oval circuit inside Standside Track with which it shares a common pull-up area.
All races run clockwise round the turn with run-in of slightly less than 500m. Track rises 10m from the 1400m to the 500m marks.
Low-number draws preferable over 1450m and 1600m.
Champions Challenge Field
We will have an updated Champions Challenge field when bookmakers release their odds. The field is made up of some of the best stars in South Africa.
Champions Challenge Feature Races
It's a big card on Champions Challenge Day at Turffontein. It features two Grade 1 races and plenty more grade races for bettors to enjoy.
R4-million Premier's Champions Challenge 2000m Grade 1
R1-million ComputaForm Sprint 1000m Grade 1
R750,000 SA Nursery 1160m Grade 2
R750,000 Wilgerbosdrift SA Oaks 2450m Grade 2
R500,000 Gold Bowl 3200m Grade 3
R500,000 Gerald Rosenberg Stakes 2000m Grade 2
R400,000 SA Fillies Nursery 1160m Grade 2
R400,000 Wolrd Sports Betting Camellia Stakes 1160m Grade 2
Champions Challenge past winners
| Year | Winner |
| --- | --- |
| 2018 | Coral Fever |
| 2017 | Deo Juvente |
| 2016 | Legal Eagle |
| 2015 | Wylie Hall |
| 2014 | Yorker |
| 2013 | Heavy Metal |
| 2012 | Europa Point |
| 2011 | Happy Landing |
| 2010 | Regal Ransom |
| 2009 | Smart Banker |
| 2008 | Eddington |
| 2007 | Pick Six |
| 2006 | Ilha Da Vitoria |
| 2005 | Grey Arrow |
| 2004 | Yard-Arm |
| 2003 | Set Afire |
| 2002 | Young Rake |
| 2001 | Young Rake |
| 2000 | Drum Star |