Durban July 2020 Tips – The two to back in South Africa's biggest handicap
We preview the betting for the Durban July 2020
Race to be run on Saturday, 25 July
Belgarion is the favourite
Do It Again aiming for history

The Durban July 2020 is around the corner and we take a look at the betting for this year's prestigious event.
Greyville Racecourse in Durban will host the handicap race, but no spectators will be allowed due to the lockdown in South Africa.
Despite the lack of atmosphere, the expectation is that this could be one of the best races in years.
Durban July 2020 Odds
Durban July 2020 Favourite
Belgarion is the current favourite after a hat-trick of handicap wins at the recent World Sports Betting 1900. Justin Snaith's horse was favourite for that race - and duly obliged.
Belgarion is among the lightest horses at the Durban July 2020 and has performed very well over ten furlongs. Interestingly, this will be Belgarion's first run with Grade One competition, so it is a bit of a surprise that he is ranked as favourite - as I believe he can be caught.
Durban July 2020 Weights
Durban July 2020 Form Guide
The star that is Do It Again is aiming to become the first horse ever to win three Durban July titles. Do It Again cruised as a three-year-old in 2018, before pipping Rainbow Bridge in 2019 to retain the Durban July crown.
Do It Again is without a doubt a contender to win again, but he hasn't looked like the Do It Again of past years in 2020. You also need to consider that there have been only four winners of the Durban July over the age of four in the last 30 years.
Rainbow Bridge also has the age stat to worry about, but in terms of form, he is outshining Do It Again. Since losing the Durban July in 2019, Eric Sands' star came third in the Queen's Plate and second in the SunMet, before grabbing a win at the Gold Challenge with relative ease.
Not unlike Do It Again, Rainbow Bridge will be carrying 60kg on his back, but that shouldn't make too much of a difference in his charge for glory in Durban.
Vardy
performed very well in the Queen's Plate, but disappointed in the SunMet. Adam Marcus decided to drop him back down to seven furlongs and a mile in his next two races, as a result, but Vardy was pipped in both the Drill Hall Stakes and the Golden Challenge. I feel the Durban July will be too much for Vardy to handle.
Bunker Hunt
was impressive in beating Vardy in the Drill Hall Stakes, and looks set to be Justin Snaith's third entrant in Durban. Despite finishing fifth as a 25/1 outsider in the SunMet, like Vardy, Bunker Hunt may struggle in Durban.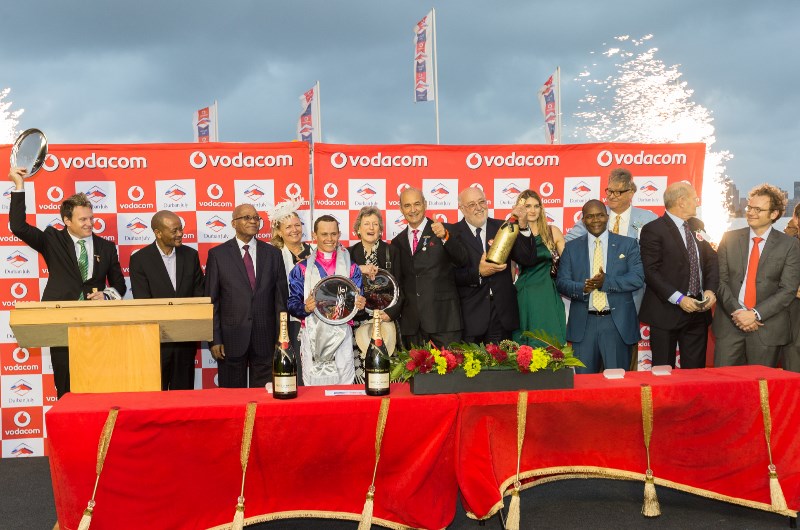 Got The Greenlight is the last runner sitting on a single-figure price. Joey Sama's horse looked strong for large parts of the SA Derby, but he ran out steam and placed third. Got The Greenlight then did Sama proud at the Daily News 2000 and looks like a decent outside bet in Durban.
Mike De Kock's only entrant for the Durban July 2020 is Soqrat. He was second favourite for the Queen's Plate, Chestnut Stakes, and the Champions Challenge, but flattered to deceive. Those defeats have raised many eyebrows and Soqrat may struggle once again against top competitors.
Golden Ducat took home the top prize in the Cape Derby in February and was priced as the favourite for the Daily News 2000. However, Eric Sands' horse could only finish third - behind stablemate Got The Greenlight. Golden Ducat did run a good race that day, but struggled when it mattered most.
Twist Of Fate, Eyes Wide Open, and Miyabi Gold finished third, fourth, and fifth, respectively, last year. While I struggle to see Twist Of Fate or Eyes Wide Open repeating their places of 2019, Miyabi Gold is in good form and could well improve upon the fifth-place of Durban July 2019.
Tierra Del Fuego is a serial winner over seven furlongs and a mile, but longer races are often problematic.Capoeira, Shango and Padre Pio will also likely struggle to maintain any momentum over the course of the race.
Durban July 2020 Tips
Who wouldn't want to see Do It Again make history, while Rainbow Bridge is in great form. However, as mentioned earlier in the preview, horses older than four tend to struggle in the Durban July, so three-year-old Got The Greenlight gets my approval.
Eric Sands' star was a Grade One winner as a juvenile and went into the SA Derby on the back of an excellent victory in the Grade One SA Classic. Callan Murray's mount ran excellently in the Derby, but ran out of steam in the end.
In the Daily News 2000, Got The Greenlight comfortably held his rivals off to seal the third Grade One victory of his encouraging career.
Got The Greenlight is a course-and-distance victor with plenty of class. He will also gain weight on practically all of his older rivals, so, for me, he looks like the best bet for this year's Durban July.
For my second pick, I'm going to side with one of Justin Snaith's supposed lesser members of his Durban July squad, Silvano's Pride.
Silvano's Pride is a proven runner over a mile-and-a-quarter and I doubt she'll have trouble seeing out that extra furlong at Greyville. Snaith's four-year-old will also carry the minimum weight on the course - and she has the ability to prove her doubters wrong.
Verdict
I'm backing the best three-year-old in this year's run, Got The Greenlight.

I'm also backing Silvano's Pride to prove the doubters wrong.


2020 Durban July Tip 1:
Got The Greenlight
Straight Win
@8.50
at
BetMGM
- 15 Units
Durban JulyPreviews & Tips
2020 Durban July Handicap Greyville