AFCON Fixtures
AFCON 2022 Fixtures - All the Dates, Times, Teams and Venues
Senegal are the 2022 Africa Cup of Nations champions
Egypt lost out on penalties following a 0-0 draw in the AFCON final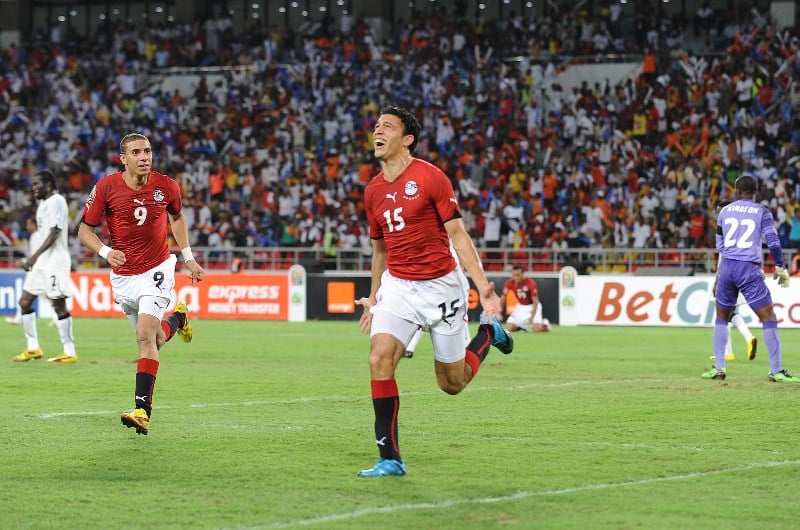 AFCON starts on 9 January 2022 (Getty Images)
AFCON 2022 Fixtures
Senegal won the Africa Cup of Nations 2022. This is their first continental title after beating Egypt on penalties in the final.
In a tightly contested affair, Senegal had the better of the opening 120 minutes. Liverpool star, Mane missed a penalty as early as the fourth minute. In the end, he made up for it by smashing home the winning penalty in the shootout.
Elsewhere, Cameroon mounted a stunning comeback from 3-0 down in the third place playoff against Burkina Faso. The 3-3 draw remained that way as the hosts won it on penalties.
| Date | Time (GMT) | Match | Score | Stage | Venue |
| --- | --- | --- | --- | --- | --- |
| 9 Jan | 16:00 | Cameroon vs Burkina Faso | 2-1 | Group | Olembe Stadium |
| 9 Jan | 19:00 | Ethiopia vs Cape Verde | 0-1 | Group | Olembe Stadium |
| 10 Jan | 13:00 | Senegal vs Zimbabwe | 1-0 | Group | Kouekong Stadium |
| 10 Jan | 16:00 | Morocco vs Ghana | 1-0 | Group | Stade Omnisport |
| 10 Jan | 16:00 | Guinea vs Malawi | 1-0 | Group | Kouekong Stadium |
| 10 Jan | 19:00 | Comoros vs Gabon | 0-1 | Group | Stade Omnisport |
| 11 Jan | 13:00 | Algeria vs Sierra Leone | 0-0 | Group | Stade Omnisport |
| 11 Jan | 16:00 | Nigeria vs Egypt | 1-0 | Group | Stade Omnisport |
| 11 Jan | 19:00 | Sudan vs Guinea-Bissau | 0-0 | Group | Stade Omnisport |
| 12 Jan | 13:00 | Tunisia vs Malawi | 0-1 | Group | Stade Municipal de Limbe |
| 12 Jan | 16:00 | Mauritania vs Gambia | 0-1 | Group | Stade Municipal de Limbe |
| 12 Jan | 19:00 | Equatorial Guinea vs Ivory Coast | 0-1 | Group | Stade Omnisport |
| 13 Jan | 16:00 | Cameroon vs Ethiopia | 4-1 | Group | Olembe Stadium |
| 13 Jan | 19:00 | Cape Verde vs Burkina Faso | 0-1 | Group | Olembe Stadium |
| 14 Jan | 13:00 | Senegal vs Guinea | 0-0 | Group | Kouekong Stadium |
| 14 Jan | 16:00 | Malawi vs Zimbabwe | 2-1 | Group | Kouekong Stadium |
| 14 Jan | 16:00 | Morocco vs Comoros | 2-0 | Group | Stade Omnisport |
| 14 Jan | 19:00 | Gabon vs Ghana | 1-1 | Group | Stade Omnisport |
| 15 Jan | 16:00 | Nigeria vs Sudan | 3-1 | Group | Stade Omisport |
| 15 Jan | 19:00 | Guinea-Bissau vs Egypt | 0-1 | Group | Stade Omnisport |
| 16 Jan | 13:00 | Gambia vs Mali | 1-1 | Group | Stade Municipal de Limbe |
| 16 Jan | 16:00 | Ivory Coast vs Sierra Leone | 2-2 | Group | Stade Omnisport |
| 16 Jan | 16:00 | Tunisia vs Mauritania | 4-0 | Group | Stade Municipal de Limbe |
| 16 Jan | 19:00 | Algeria vs Equatorial Guinea | 0-1 | Group | Stade Omnisport |
| 17 Jan | 16:00 | Burkina Faso vs Ethiopia | 1-1 | Group | Kouekong Stadium |
| 17 Jan | 16:00 | Cape Verde vs Cameroon | 1-1 | Group | Olembe Stadium |
| 18 Jan | 16:00 | Malawi vs Senegal | 0-0 | Group | Kouekong Stadium |
| 18 Jan | 16:00 | Zimbabwe vs Guinea | 2-1 | Group | Stade Omnisport |
| 18 Jan | 19:00 | Gabon vs Morocco | 2-2 | Group | Stade Omnisport |
| 18 Jan | 19:00 | Ghana vs Comoros | 2-3 | Group | Stade Omnisport |
| 19 Jan | 19:00 | Egypt vs Sudan | 1-0 | Group | Stade Omnisport |
| 19 Jan | 20:00 | Guinea-Bissau vs Nigeria | 0-2 | Group | Stade Omnisport |
| 20 Jan | 16:00 | Sierra Leone vs Equatorial Guinea | 0-1 | Group | Stade Municipal de Limbe |
| 20 Jan | 16:00 | Ivory Coast vs Algeria | 3-1 | Group | Stade Omnisport |
| 20 Jan | 19:00 | Mali vs Mauritania | 2-0 | Group | Stade Omnisport |
| 20 Jan | 20:00 | Gambia vs Tunisia | 1-0 | Group | Stade Municipal de Limbe |
| 23 Jan | 16:00 | Burkina Faso vs Gabon | 1-1 (7-6) | Round of 16 | Stade Municipal de Limbe |
| 23 Jan | 19:00 | Nigeria vs Tunisia | 0-1 | Round of 16 | Stade Omnisport |
| 24 Jan | 16:00 | Guinea vs Gambia | 0-1 | Round of 16 | Kouekong Stadium |
| 24 Jan | 19:00 | Cameroon vs Comoros | 2-1 | Round of 16 | Olembe Stadium |
| 25 Jan | 17:00 | Senegal vs Cape Verde | 2-0 | Round of 16 | Kouekong Stadium |
| 25 Jan | 19:00 | Morocco vs Malawi | 2-1 | Round of 16 | Stade Omnisport |
| 26 Jan | 16:00 | Ivory Coast vs Egypt | 0-0 (4-5) | Round of 16 | Stade Omnisport |
| 26 Jan | 19:00 | Mali vs Equatorial Guinea | 0-0 (5-6) | Round of 16 | Stade Municipal de Limbe |
| 29 Jan | 16:00 | Gambia vs Cameroon | 0-2 | Q/F | Stade Omnisport |
| 29 Jan | 19:00 | Burkina Faso vs Tunisia | 1-0 | Q/F | Stade Omnisport |
| 30 Jan | 15:00 | Egypt vs Morocco | 2-1 | Q/F | Olembe Stadium |
| 30 Jan | 19:00 | Senegal vs Equatorial Guinea | 3-1 | Q/F | Stade Omnisport |
| 2 Feb | 19:00 | Burkina Faso vs Senegal | 1-3 | S/F | Stade Omnisport |
| 3 Feb | 19:00 | Cameroon vs Egypt | 0-0 (1-3) | S/F | Olembe Stadium |
| 5 Feb | 16:00 | Cameroon vs Burkina Faso | 3-3 (3-1) | 3rd/4th Playoff | Stade Omnisport |
| 6 Feb | 19:00 | Senegal vs Egypt | 0-0 (4-2) | Final | Olembe Stadium |
AFCON 2022 Groups
Group A: Burkina Faso, Cameroon, Cape Verde, Ethiopia
Group B: Guinea, Malawi, Senegal, Zimbabwe
Group C: Comoros, Gabon, Ghana, Morocco
Group D: Egypt, Guinea-Bissau, Nigeria, Sudan
Group E: Algeria, Ivory Coast, Equatorial Guinea, Sierra Leone
Group F: Gambia, Mali, Mauritania, Tunisia